Photo © Spirit of Space 2022
The new home of the University of Iowa Stanley Museum of Art is a beautiful, unique structure that complements the museum's collections with its design and composition. Created as a timeless rectilinear structure, the building is punctuated by voids formed by two outdoor terraces and a three-story lightwell. The façade is composed of airy glass and dark brick masonry that has been treated with manganese for a luminous quality. The interior of the museum features white, light-filled spaces and warm white birch wood detailing to highlight the collection. Significant building spaces include the first-floor lobby and event space, the second-floor exhibition galleries, and the third-floor education suites for studying, teaching, and learning directly from works in the collection.
Fast Facts:
Building Opening Date: August 26, 2022

Architect: BNIM Iowa; lead, Rod Kruse

Building Sq. Ft.: 63,000 sq. ft. total; more than 16,500 sq. ft. of exhibition space; 2,200 sq. ft. of outdoor gallery space

Building Costs: $50 million

Location: 160 W. Burlington Street, adjacent to Gibson Square Park

Free to the Public: Tues-Sat 10 a.m.- 4:30 p.m., Thur 10 a.m.-8 p.m. and Sun 12-4:30 p.m. (closed Mon)
891 Days / 300 Construction workers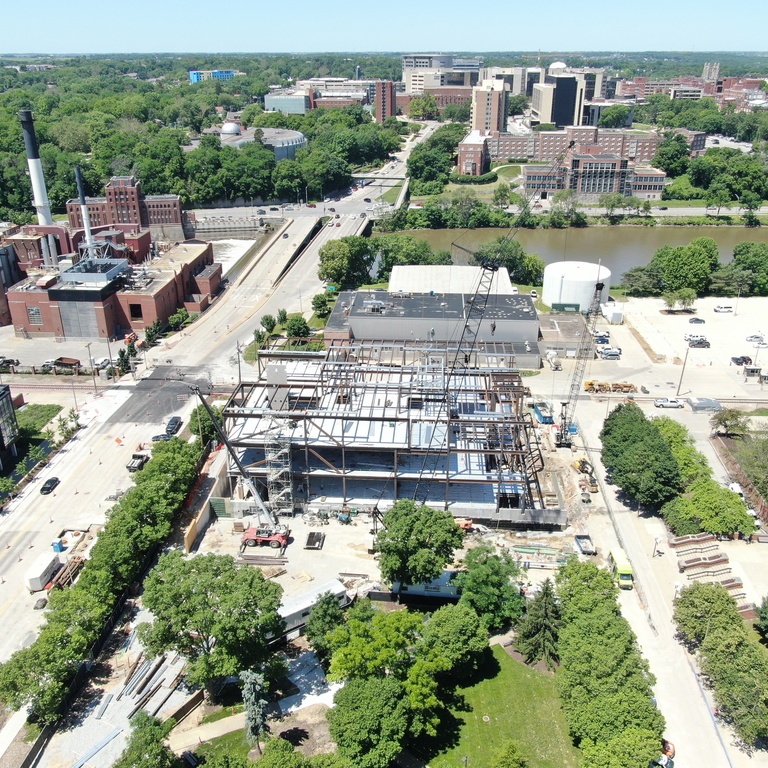 214,888 individual bricks on exterior
• Installed by Seedorff Masonry
• Brick type: Manganese Ironspot
• Manufactured by Endicott Clay Products, Fairbury, Nebraska
• 9 brick shapes, 4 brick patterns
• 36,200 square feet or 214,888 individual bricks on exterior
• 9-12 bricklayers, 4 laborers and 2 operators per day at full capacity
• 7 bricklayers laid about 75 square feet per hour. Each bricklayer picked up and laid around 2,500 to 3,000 lbs. of bricks per day.
• 208 x 3,000 lb. bags of black mortar (312 ton) used daily for the brick. Bricklayers used around 5,000 pounds per day, around 60 cubic feet per day.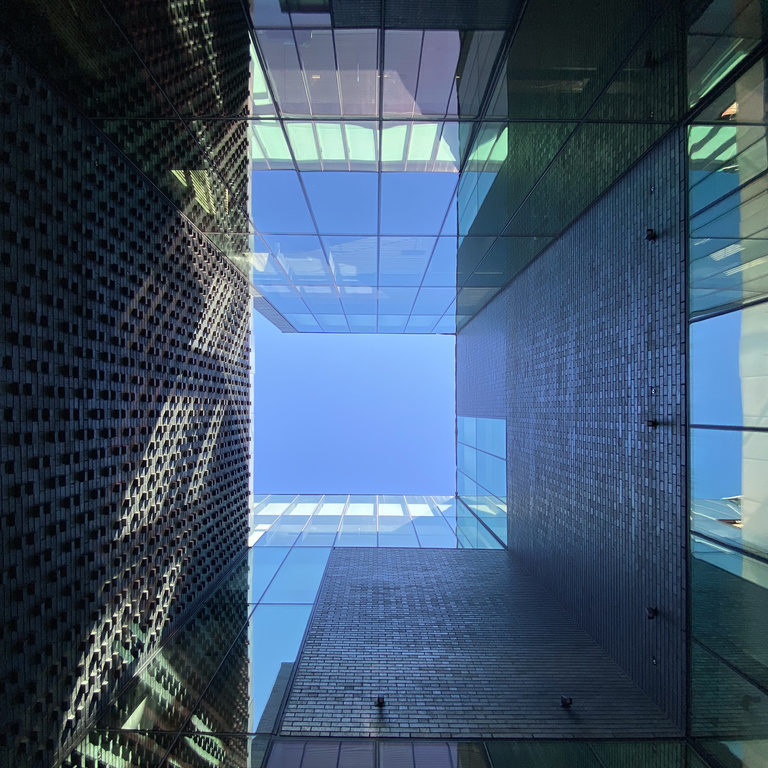 59 ft.-2 in. from level 1 outdoor terrace to the roof parapet
• The lightwell is part of the central organization design that provides a common point of reference on each level and allows natural daylight into the adjacent spaces.
• It is an outside space so will be subject to all weather types and precipitation. Concealed area drains are located below the level 1 walking surface and will drain way any precipitation that falls into the lightwell. The walking surface is also equipped with a snow melt system that will melt away and snow or ice accumulation without having to mechanically remove snow
• In addition to the orientation features of the lightwell, it is fully equipped to support art installations in both 2d and 3d formats.

15,438 square feet of glass
• 15,438 square feet or 552 total 'pieces' of glass in the building.
• The large glass façade is integral to the interior experience, bringing the outside in and providing both literal and figurative transparency to campus and the community.
• The glass throughout the building is "low-iron", meaning it is clearer than typical glass, which has a green hue to it. This white light means the interior spaces are "true color" and not tinted. Key window areas include a blocking filter preventing UV light from entering.
• The window systems, manufactured by Oldcastle Building Envelope and installed by Forman-Ford, have varying thickness based on the gravity and wind loads they will be subjected to.
• Window depths throughout the building range from 2 3/4 and 10 7/8 inches. The thinnest windows are at the entrance, with the deeper windows surrounding the south terrace on level three.

72 total risers and nine landings
• Steel fabricator: Donner Steel Works, Lincoln NE
• Custom designed by BNIM Architects and MBJ structural engineers. The perforation pattern is designed to allow the maximum amount of visible transparency and maintain the required structural capacity. The perforation pattern is replicated in the wall base included in select areas throughout the building interior and on the screen walls on the exterior.
• The stairs rise three stories but with a double switchback design given floor to floor heights.
• 72 total risers and nine landings. Stairs and landings are finished with 180+ precast polished concrete planks.
• Perforated center guardrail provides structural support, and the stair is hung from the roof structure by four steel rods.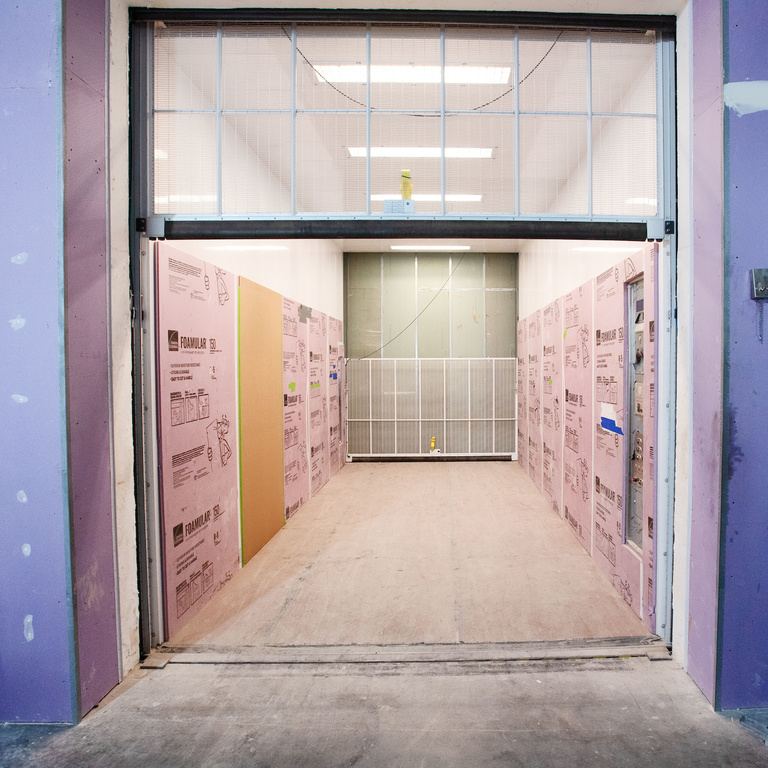 10 ft. wide x 21 ft.-2 in. deep x 12 ft. tall
• Designed to accommodate movement of Jackson Pollock's Mural in its 10 x 22 x 2 ft., 1.6-ton shipping crate.
• Elevator door opening: 10 ft. wide x 12 ft. tall
• Inside dimensions of the elevator: 10 ft. wide x 21 ft.-2 in. deep x 12 ft. tall
• Weight capacity: 10,000 lbs. (the car itself weighs 20,031 lbs.)
• Travel speed: 75 ft. per minute
• Travel distance: 38 ft.-8 in.
• Elevator shaft: 63 ft.-6 in. tall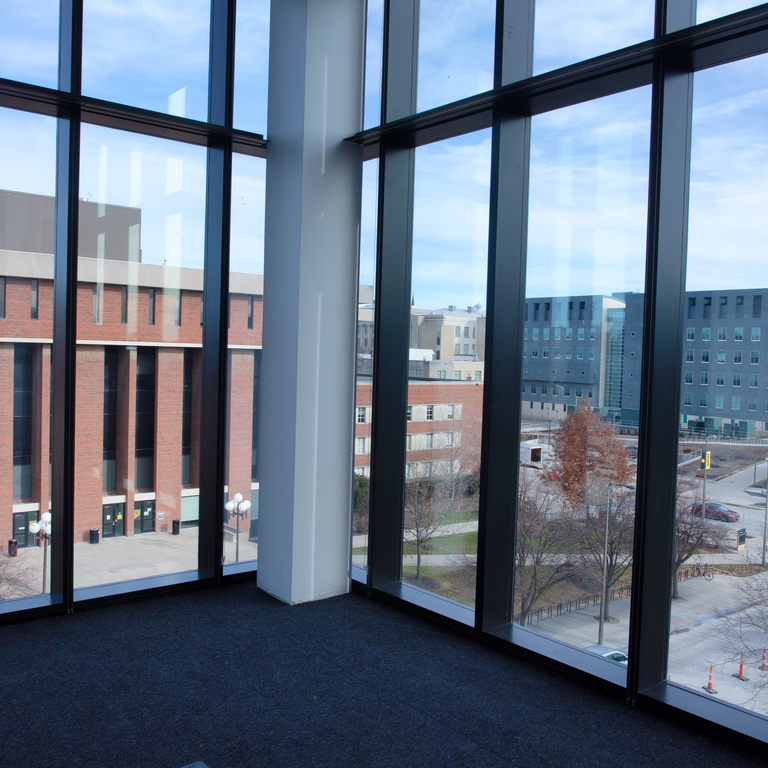 Photos by Nick Merrick © Hall+Merrick 2022, courtesy BNIM