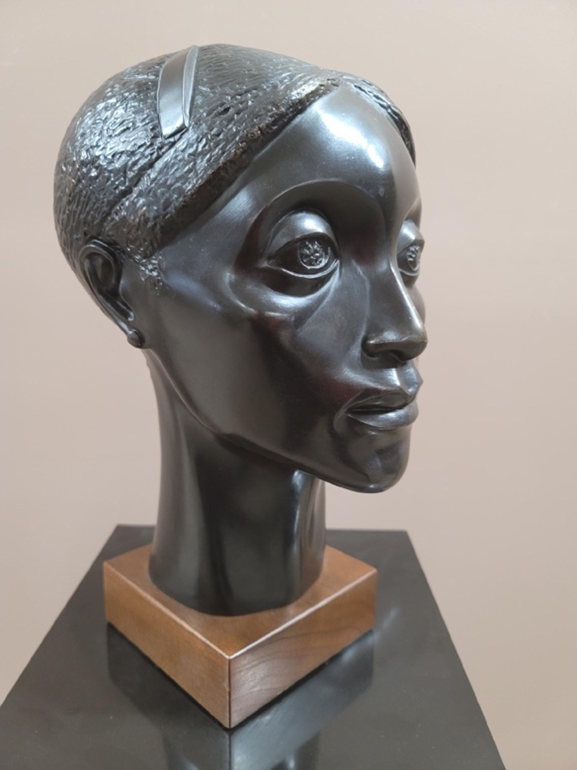 This portrait bust of dancer, actress, and educator Glory Van Scott exemplifies the confluence of European, African, and pre-Hispanic Mexican aesthetics in Elizabeth Catlett's sculpture. This early edition of Glory exhibits a highly desirable blackened patina in contrast to the copper finish of later versions. Catlett's characteristically angular but fluid surface is designed to catch the light, and the deeper tones heighten this dramatic contrast.
Dr. Glory Van Scott (b. 1947) gained renown as a principal dancer with the Katherine Dunham, Agnes DeMille, and Talley Beatty companies before building her career as a director, producer, and professor of theater. Born in Chicago, she is a cousin of Emmett Till. In May of 1981, she and Elizabeth Catlett met at an event honoring Black women in the arts in Dallas. There, Catlett announced her intention to sculpt a bust of Van Scott. When Van Scott visited Catlett in Cuernavaca, Mexico, in December of that year, the artist worked on a clay model for the bronze, which exists in nine editions. During their conversation, Van Scott indicated how honored she was, and Catlett elaborated on her motivations: "It wasn't you that I chose as the subject exactly. It was your head that I chose. It was a culmination of old-fashioned and modern-sophisticated and the forms represent to me one kind of beauty in black women." By this point in her career, Catlett had already modelled bronze sculptures on several prominent cultural figures including Phyllis Wheatley and Louis Armstrong.
Glory will be a featured in the inaugural exhibition, and will remain on long-term view.
Glory, 1981
Cast bronze with a black patina on a wooden base
Edition of 9
16 x 9.5 x 10 in. (40.6 x 24.1 x 25.4 cm)
Artist's initials incised at rear
Museum purchase with support from the Joyce P. Summerwill Art Fund, 2022.1
Elizabeth Catlett (American and Mexican, 1915–2012)