From the Stanley Campus Council
Thursday, September 8, 2022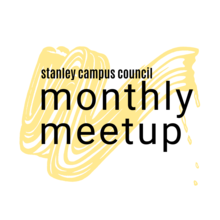 What is a Monthly Meetup? 
Every month, the Stanley Campus Council hosts one event geared toward engaging the entire student body--undergraduate and graduate students of all majors and programs of study. These events vary in the proposed activity or focus, but all were designed by students for students, with a goal of encouraging UI students to visit the Stanley and familiarize themselves with its presence on campus. These events take place Thursday evenings, when the museum is open late, from 6 - 7:30 pm. 
September 8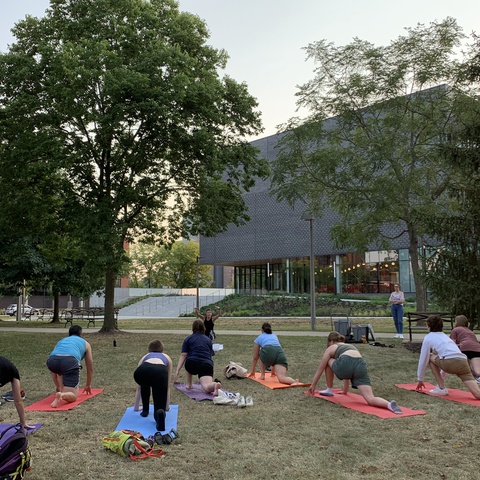 For the first installment of this series, we took into consideration the hustle and bustle of the first few weeks of classes--not to mention the exuberance and festivities of the museum's opening celebration and our kickoff the week prior--and decided to host a low-key, relaxing event for the inaugural Monthly Meetup. 
The primary activity for the September Monthly Meetup was a light yoga class, led by instructor Patricia Kutcher from the Campus Recreation and Wellness Center. This class took place outdoors, in Gibson Square Park, and it was a beautiful warm evening for a yoga class! 
After the yoga class ended, participants were welcomed into the Stanley for some light (healthy!) refreshments in the lobby, and then encouraged to go up to the galleries and explore the galleries if they hadn't had a chance to do so yet. As a little bonus, we even put together a few playlists on Spotify that we deemed perfect for looking at art: we made one playlist specifically for studying and relaxing, with calming instrumental music, as well as another playlist with a range of music on it, meant to inspire you to see the work differently. How does an abstract painting change if you're looking at it while listening to R&B? Classical music? Pop?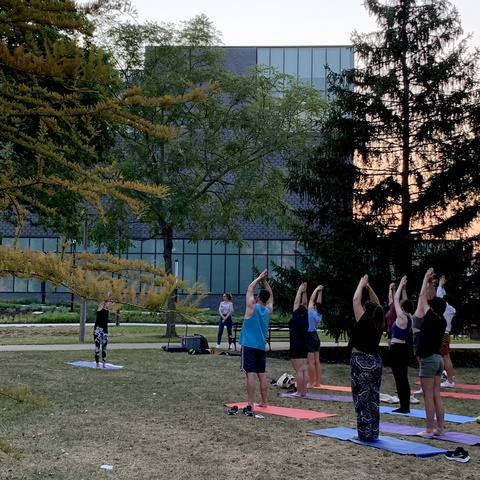 Looking forward
You can expect Monthly Meetups to happen... well, once a month! Follow us on Instagram to keep up to date with what we've got planned for each event, and check back here for photos and recaps on how these events went. 
Did you attend this Monthly Meetup, or any other Monthly Meetup, and take pictures? Share them with us via email!
Interested in checking out our playlists yourself for when you visit the Stanley? You can find them here, on our Spotify! 
Interested in yoga instruction at the CRWC? The student fees included in your tuition give you access to free group fitness classes, including yoga! See the full list on the Recreational Services website here.