From the Stanley Campus Council
Thursday, September 1, 2022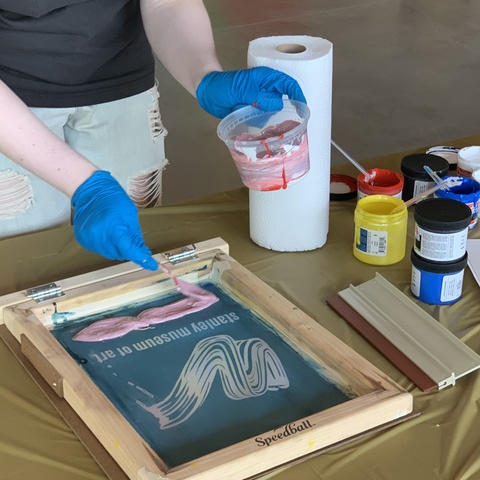 After opening weekend, the Stanley Campus Council hosted their own opening celebrations, specifically geared towards a campus audience. Conceived of during the Spring 2022 semester, the SCC had planned what we called "The Student Kickoff"--an afternoon of socializing, food, and art at the Stanley. 
The main draw of the event were the tote bags. Over the summer, the SCC learned about the screen printing process. First, we created a design derived from a print in the Stanley's collection: Roy Lichtenstein's "Brushstroke" from 1965. Then, we turned our design into a "positive" (a contrast print on clear mylar), which we then used in conjunction with a special light to "expose" the image onto the screen that has been coated in a light-sensitive chemical. After washing out the screens, we were left with our image--the only thing to do after that is to get printing! 
In total, the SCC printed over 200 tote bags. All of the inks we used were hand mixed. We experimented with single-color prints as well as fun gradients and other techniques. It was messy, but a lot of fun! All of the tote bags we made for this event were unique and one-of-a-kind due to this process.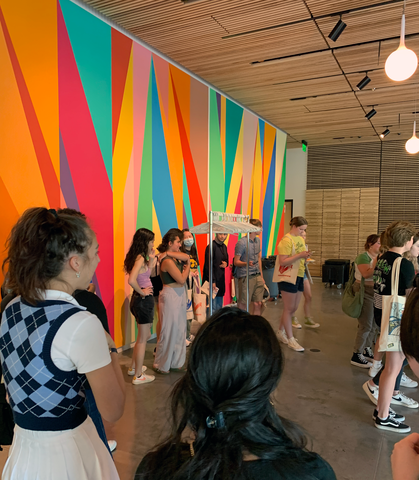 The tote bags weren't the only stars of the show--for this event, the SCC ordered 26 pizzas and 2 sheet cakes, among other snacks, from University catering to entice students to attend the event. From experience, we knew that the one surefire way to get students to attend an event is to offer free pizza! 
Our main goal with this event was to introduce the Stanley Museum of Art to the student body in a low stakes way. We knew that sometimes, new places with new rules can be intimidating to students; our event was held entirely in the lobby, so all students had to do to take part was walk in the front door. If they just came to grab pizza or a tote bag and left, we still counted this as a win--because at least they made it inside. 
And overall, the Student Kickoff was a huge success! After just a few minutes, all of the tote bags had been snatched up by a crowd of students that had arrived to experience the Stanley. And even after all the tote bags and pizza were gone, students dropped by to take a look at the galleries or explore the museum spaces, which is all we could've hoped for. 
We are hoping to do another screen printing project or event in the future because it was such a success. So keep your eyes peeled for that in the coming semesters! And a big thank you to everyone that attended our first Stanley Campus Council event at the new Stanley Museum of Art.