From the Stanley Campus Council
Thursday, October 13, 2022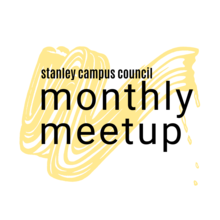 What is a Monthly Meetup? 
Every month, the Stanley Campus Council hosts one event geared toward engaging the entire student body--undergraduate and graduate students of all majors and programs of study. These events vary in the proposed activity or focus, but all were designed by students for students, with a goal of encouraging UI students to visit the Stanley and familiarize themselves with its presence on campus. These events take place Thursday evenings, when the museum is open late, from 6 - 7:30 pm. 
October 13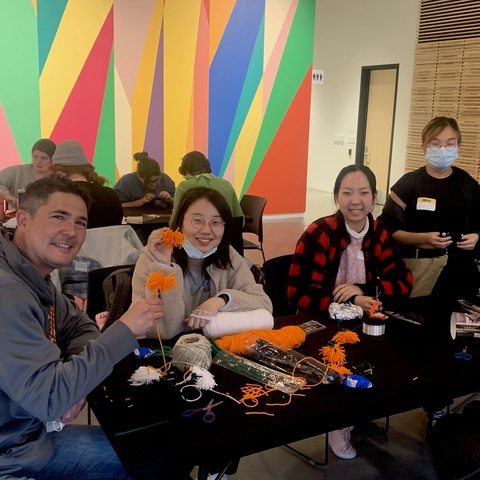 For the October Monthly Meetup, we decided (of COURSE) to celebrate Halloween at the Stanley. We hoped to draw on the childhood nostalgia that the holiday brings, and have students gather at the Stanley for a night of creepy crafts, candy, a Halloween movie, and art! 
We really loved the idea of activating the space of the museum by both offering an art-making activity and displaying art that specifically related to the theme of our event. For the art making, we offered two different activities. Event participants were given the option to sit and make their own yarn pompom garlands (a lot of people ended up just making cute décor instead of a whole garland, which was great too!), or decorate a candle, either by drawing a jack-o-lantern face or spiderweb on it, or by plastering it in Halloween stickers or purple and orange rhinestones. We loved how simple and easy these crafts were, and how they were something you could take home and decorate your dorm or apartment with, and reuse year after year on Halloween (or easily remake and modify if you wanted)!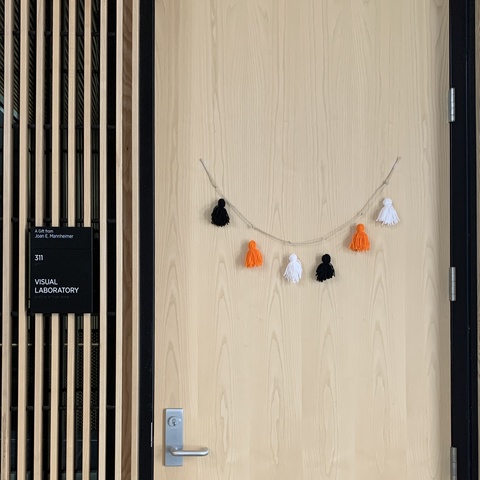 To go along with our spooky art-making activities, we also asked Stanley collections staff to put out a special display of creepy artwork for us in the Visual Laboratory on the third floor--and they delivered!
They put out three prints by the Spanish artist Francisco de Goya y Lucientes, from his series entitled Los Caprichos: Quien lo creyera! (Who would have thought it!), El Vergonzoso (The shame-faced one), and Hilan delgado (They spin finely). Los Caprichos is a group of 80 prints, made between 1797 and 1798, using etching and aquatint techniques. They depict Goya's feelings about and criticisms of the society in which he lived; each print has a title related to the image, which depicts an exaggeration of the foibles and follies of any given civilization. The darkness present in each of the prints and the genuinely frightening looking characters, in our opinion, made for perfect works of art for us to contemplate around Halloween.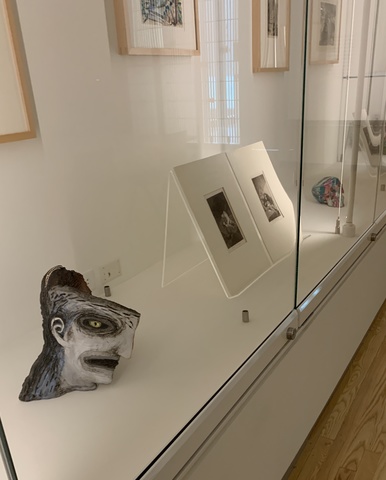 Additionally, collections staff pulled out two sculptural works for us: Judy Moonelis's Untitled 2 (1953), and Damien Hirst's Happy Head (2007). The ceramic Judy Moonelis piece was super intriguing because of its decoration on both sides, which reminded us of both masks and of monsters, ghouls, or demons. And the Damien Hirst piece was of course chosen for the fact that it's in the shape of a human skull, which has a clear connection with all things creepy, macabre, and Halloween. A lot of Hirst's work uses similar human skull imagery, which is a sort of memento mori--an artistic tradition referring to an artwork that serves as a reminder of our mortality and the inevitability of death. 
To counteract the creepiness of the art, we played a fun, light-hearted Halloween movie in the lobby as background noise to our craft-making and candy-eating stations--none other than the classic favorite, the live-action Scooby Doo movie (2002). And of course, we encouraged people to come in their costumes!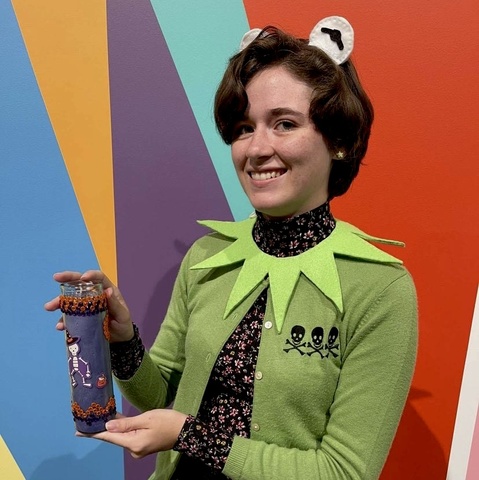 Looking forward
You can expect Monthly Meetups to happen... well, once a month! Follow us on Instagram to keep up to date with what we've got planned for each event, and check back here for photos and recaps on how these events went. 
Did you attend this Monthly Meetup, or any other Monthly Meetup, and take pictures? Share them with us via email!
For more info on how to make our Halloween crafts at home, check out this link! 
If you're interested in learning more about any of the works listed in this recap, feel free to check out the Iowa Digital Library--you can find a significant portion of the Stanley's Collection on this online database. And if you see something online that sparks your interest and you'd like to check it out in person, you can fill out this form to request an object study. If you are a TA and want to theme one of your classes around certain works, this is also a great option! The Stanley's Academic Outreach Coordinator, Kathryn Reuter, would be happy to help get something scheduled for you: for more information, please visit this link.