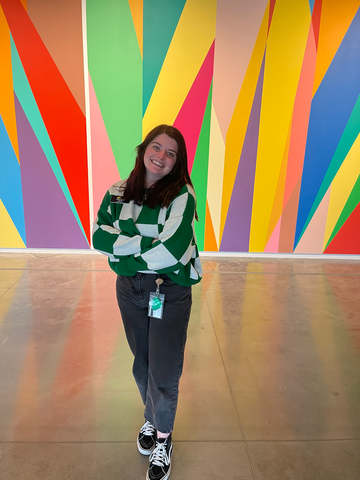 "Hello! My name is Alexis Belme and my pronouns are She/her. I am the Campus Engagement Coordinator for the Stanley Museum.

I am a third-year student graduating a year early with my bachelor's degree in Social Justice and a certificate in Museum Studies. I will graduate in the Spring of 2024 and plan to move elsewhere to pursue a master's degree in Museum Studies.

I was born in Heidelberg, Germany but have moved around all my life. Growing up in Europe, I was constantly exposed to museums and other historic sites. With that, I fell in love with the ways museums can educate and expose the public to issue of the past, but also new ways to see the future. As a Social Justice major, I see museums as spaces that create change and develop a sense of community. With this role, I am excited to create events and other projects in the hope that students can also view museums as a site for change and progress."

In her new role, Alexis will work with Learning & Engagement department staff over summer 2023 and academic year 2023/2024 to support the development and implementation of student-focused programming and engagement initiatives at the Stanley Museum of Art.