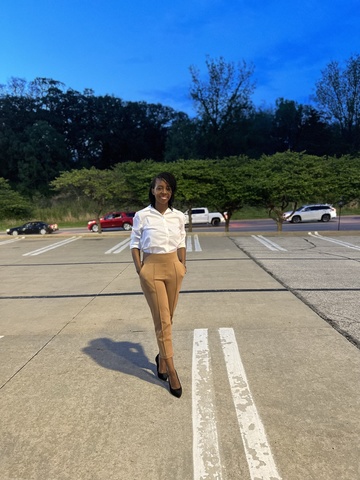 "My name is Nyari Chisaka.
I am a Ph.D. student in the History Department, and I plan to graduate in May 2024. My research is on women in the war of armed resistance against colonial rule in Zimbabwe between 1966 and 1980.

I was an intern at the Stanley Museum of Art this summer. I wrote about Shona Objects in the African collection and worked with Cory Gundlach.
My favorite objects in the museum are the Kanga cloth and the Epa headdress mask. I appreciate how the objects in the Stanley Museum speak to each other. For example, the textile collection highlights a global scale of interaction like the Kanga cloth 2022.82. Such an approach to displaying objects extends their relevance into conversations about current issues.
Working at the museum has increased my awareness of how I, as a social historian, can use art to trace the experiences of communities with unrecorded histories. My work there has also given me an appreciation of art I did not have before."
 

While Nyari's internship only lasted a short six weeks, she was able to contribute greatly to the museum's research on Shona objects, and shared amazing insights with Stanley staff about the power of objects and how the way we present them can both represent and/or silence different groups of people.