Thursday, September 14, 2023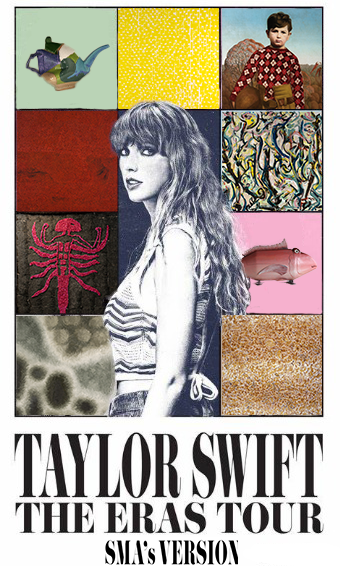 A Stanley Eras Tour 
There is nothing I love more than Taylor Swift, so comparing her ten original studio albums to the work in the Stanley Museum of Art proved to be an enjoyable and eye-opening task. When wandering around our 12 galleries, inspiration struck all around; I could see her lyrics surrounding the frames of paintings and sitting next to the pedestals of ceramics. With the sweet sounds of Taylor playing in my head, I created a collection of songs that can be listened to era by era or on shuffle when exploring the space. Some tracks connect to a deeper meaning hidden in the words and works on display, but some are as easily identifiable as the shared colors and title. Through this project, I gained a deeper understanding of the pluralism of art and how one connects with it in their own way. Like the work in the Stanley, Taylor's songs hold multiple meanings depending on how you listen to her music. In the quiet galleries, surrounded by art, you can feel happy, free, confused, and lonely in the best way. 

Scan the code with the Spotify app on your phone or click this link to listen to the playlist of songs mentioned in the article. 
---
TAYLOR SWIFT: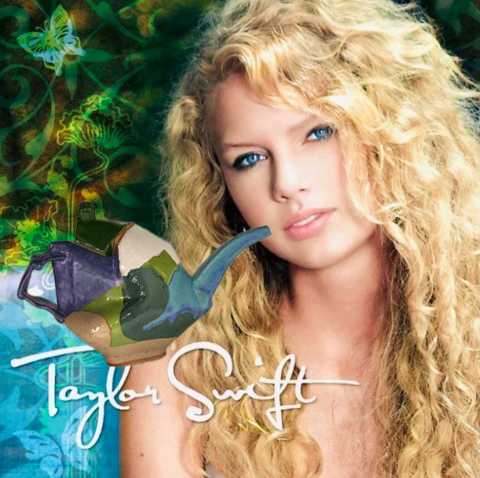 In her debut album, Taylor's country roots and twangy 16-year-old voice transports you to a small barn out in the country. The artist Lillian Pitt described her first-time using clay as "love at first sight," so when I see her stonewear mask in Gallery 11, I can see Taylor falling in love with music and finally releasing her self-titled album, Taylor Swift. When I think of her very first song, Tim McGraw, I think of Wasco: She Who Watches.  
On the opposite side of the galleries is Willie Cole's Two-Faced Blues, a double-headed bust formed of unused guitar parts. More than any other era, guitar is the primary instrument – she even wrote a song for the album titled Teardrops On My Guitar.  
In the cases of ceramics near the stairwell, there is a stoneware teapot by John Gill with almost geometric like blocking shades of blue, green, and tan - reminiscent of Taylor's green and blue butterfly shadowed album cover. This, along with the other works of art, depict her down-to-earth, natural debut era. 
"You are I are paintin' pictures in the sky" – I'm Only Me When I'm With You 
FEARLESS (Taylor's Version):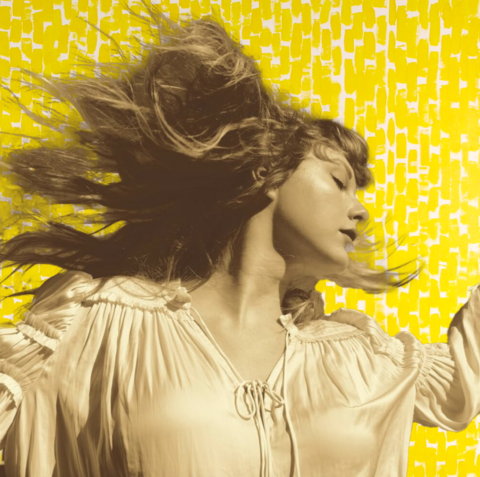 A golden, glimmering story of longing and love is how I would describe Taylor's second album, Fearless. Immediately there is a correlation between Alma Woodsey Thomas's acrylic painting, Spring Embraces Yellow, and Fearless. The immense size of the work allows the bright yellow splotches to rain down the canvas, like Taylor's many, many songs of this era referencing rainy nights.  
One of Taylor's most touching songs is The Best Day, a tale of her childhood and close relationship with her mother. So, I'm taking this chance to say that I think the mother and child depicted in Philip Guston's The Young Mother had the best day that day.  
Going back around the galleries, the slender, shiny, gold aluminum of Isamu Noguchi's sculpture Joy just looks like it would belong in this era – paralleling Taylor's joy surrounding her young fame. 
"Give me a photograph to hang on my wall, superstar" – Superstar (Taylor's Version) 
SPEAK NOW (Taylor's Version):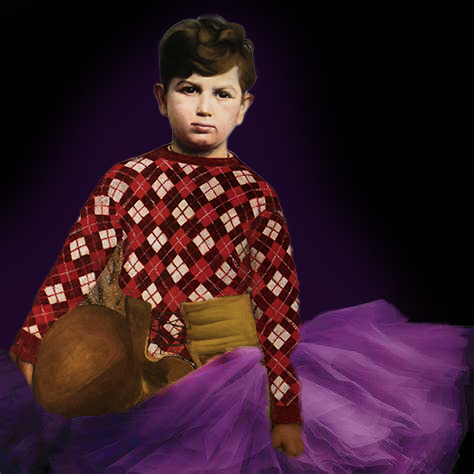 In her third studio album, Speak Now, Taylor sings of her late teens and all the whimsical moments that unfolded for her then. The album cover features Taylor in a flowing purple gown, her iconic blonde curls spinning through the air. If there's one thing I noticed while spending time in the galleries, it's the lack of purple art. With nothing of the color to choose from, I instead focused Joan Mitchell's Red Painting No. 2, a large work with brushstrokes of reds, blues, and yellows blending together in the middle. Mitchell was a leading Abstract Expressionist who focused on a central image when creating – a practiced denounced by the male-dominated style. In this era of Taylor's, the male-dominated music industry had control of her first six albums, which were sold to an investment company, denouncing her wishes to own them. She recently began to re-record those records (with Speak Now being the most recent release), since owning her own music became the most important thing to her.  
In a different light, Grant Wood's oil painting Plaid Sweater resembles the track Never Grow Up, a song reminiscing on childhood and the feeling of not wanting to grow older, like the boy that's forever portrayed at seven-years-old. As a fan of this work, don't you ever grow up, just stay this little.  
"You paint me a blue sky and go back and turn it to rain" – Dear John (Taylor's Version) 
RED (Taylor's Version):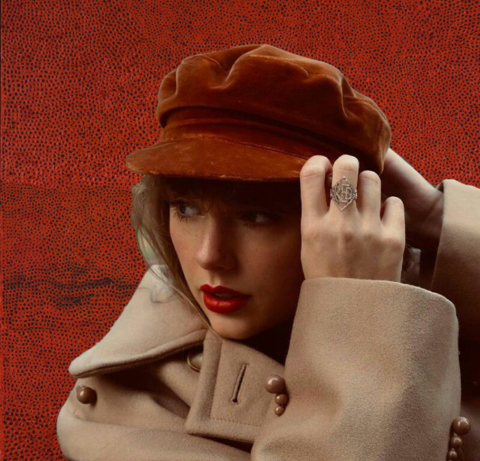 With a hint of her country roots, Red is the epitome of burning love and the vibe of autumn leaves changing colors over your college campus. It doesn't take much to connect Yayoi Kusama's Red No. 28 to Taylor's fourth album. The oil painting is covered in tiny black and red splotches that your eyes immediately focus on, trying to make patterns.  
Further down Taylor's track list is the heartfelt song Everything Has Changed, with lyrics describing the worry of changing relationships. In a similar way, artist Gabriele Münter strictly painted outdoor landscapes, until she transitioned to creating these landscapes in an avant-garde style, like in Gallery 9's colorful Schnee und Sonne [Snow and Sun].  
Of the newer vault tracks that came after she re-released the album, the upbeat tune Message In A Bottle speaks to those who really want to tell someone how they feel but are too nervous, so the best they can do is mail one over the ocean. On the African side of the galleries, the Lobala style Monganze (zoomorphic slit gong) is the Stanley's largest wooden object, and it was used to send long-distance messages by striking the sides. I feel like Taylor would have had a better chance getting her message to the one that she loved if she would have written a song called Strike On A Monganze.  
"Losing him was blue like I'd never known, missing him was dark grey all alone… but loving him was red," – Red (Taylor's Version) 
1989: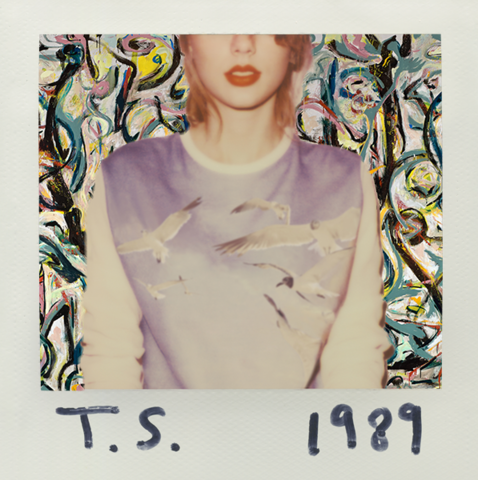 1989 was Taylor's transition into mainstream pop music, leaving behind any trace of the small country girl she used to be. As her fifth album and biggest record, with hit singles like Shake It Off, Blank Space, and Style, it only felt right to compare it to the Stanley's one-and-only Mural by Jackson Pollock. With the painting's swirling blue, pink, and black colors, along with the hints of red and yellow splatters – Mural is never going out of style.  
The first track on the album, setting the tone for the rest of the songs, is Welcome To New York – an inclusive work about going to a place that's been waiting for you, where you can be whoever you want. The museum happens to have multiple pieces on display featuring New York in the title, however the one I feel connects the best is the oil painting L'Arrivée à New York [the Arrival in New York] by Maurice Denis. The work of art shows steamship and tugboat traffic in the New York harbors below the pastel skyscrapers of 1927. When exploring galleries 8 and 9 I think 1989 is really fun to listen to—both because of the obvious number play and because of the vibrant hues and grand scales of the art. 
"You took a Polaroid of us, then discovered the rest of the world was black and white, but we were in screaming color," – Out of the Woods 
REPUTATION: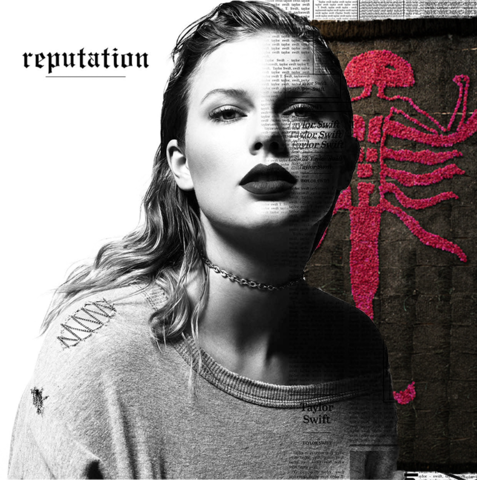 After three years of silence, Taylor released Reputation in 2017 – a jet-black record about her character and what the tabloids thought of her – doing no press or social media for the sixth album. Hanging on the back wall in Gallery 7 is a floor-to-ceiling trailing, black woven polyethylene fabric textile with hot pink satin roses embedded into a shape of a scorpion. This work by Joseph Awuah-Darko, titled Nootka Scorpio, visually embodies the Reputation era in all its cynical, snakey darkness by just looking at it. 
Turning around in the galleries, you see a set of two ceramic black-on-black vessels and one bowl by Maria Montoya Martinez – to which Martinez said "black goes with everything" when talking about them. I think Taylor would agree.  
On the Reputation album cover, Taylor is depicted in front of black and white newspaper articles, all with her name in the headline, which is reminiscent of artist and journalist Lil Picard. In the corner of Gallery 12, Picard's work is displayed as an ever-rotating collection of found objects paint and mixed media on fabric works that embraces her experimental art style and feminine vocabulary. This is exactly what Taylor was trying to portray with the music in Reputation - as it was something unlike her previous sound, and a call to show everyone only she can make her own reputation.   
"Deep blue but you painted me golden," – Dancing With Our Hands Tied  
LOVER: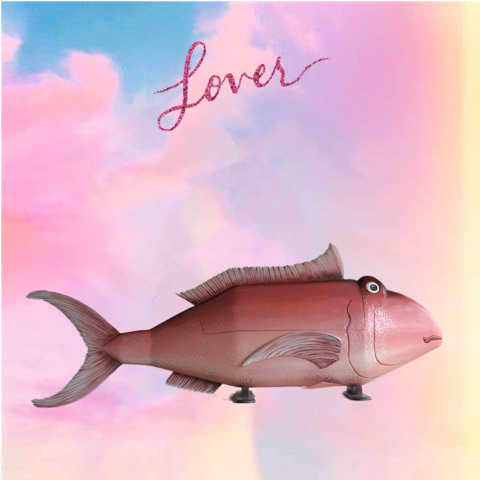 My personal favorite album and era is Lover. A perfect, pink dreamscape of love songs and happiness. An immediate, glaring representation of Lover in the Stanley's galleries can be seen with the massive, hot pink Fish coffin by Eric Adjetey Anang in the African galleries.  
Looking deeper into the art, in the next gallery over is the Ait Khabbash style bridal ensemble – brides in southeast Morocco would be dressed in items like the white cotton and silk Aḥruy (Wedding Dress), the Tazra n Iluban (Necklace) with amber resin beads, Taboqest (Tasseled sashes), and a silk Aâbroq (Bride's head covering). Ladies and gentlemen, will you please stand? Because there is nothing more Lover than this ensemble.  
Over in Gallery 10, Hannah Höch's painting Sperrende Kräfte [Locking Powers] uses machine like forms to explore gender roles and primary colors, because, as a female member of the Dada movement, she and other women were marginalized by their male counterparts. Taylor's fourth track titled The Man speaks of how she would act if she were the man – she'd be a fearless leader, alpha type, everyone would believe her. She combats the difference of how women and men are treated through music, like how Hoch did in her paintings a century ago.  
Inclusivity is another important topic of Taylor's in the Lover era, writing songs like You Need To Calm Down, telling everyone to just stop hating because shade never made anyone less gay. B. Proud's print of Carla and Jaime, Nashville, Tennessee shows two transgender women standing in front of a white and red painted wall – accompanied by a narrative describing their loving personalities and professions. The photographer focuses on documentary projects about LGBTQ+ communities, this print being a part of her Transcending Love series.  
"I'll paint the kitchen neon, I'll brighten up the sky," – Soon You'll Get Better 
FOLKLORE: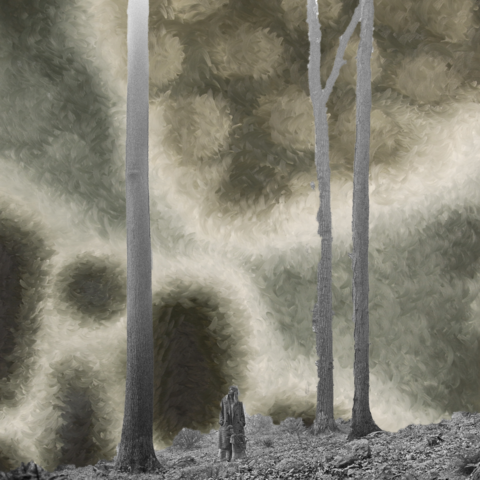 Taylor's eighth studio album was different from the previous, a soft and mellow collection of stories in songs recorded and released as a surprise during the pandemic. folklore's cover, featuring a black and white filter over a photo of Taylor wandering in the woods, sets the tone of the album – Gallery 8's painting Estuary #2 by Tadashi Sato fits right in this era. With its soft grey brush marks, Sato focuses on the qualities of water and how it can hit the rocks above, almost telling the viewer to take me to the lakes – folklore's bonus track.  
Another work that immediately made me play a song from this era is Envelope/Envelop ¾ by Ruth Hardinger, a diptych made from graphite and abaca on paper pulp.  
A new work in the galleries based on actual folklore is Lee Allen's vibrant oil painting, Paul Bunyan and the Blue Ox – a perfect example of the tales and mythology Taylor was feeling and experimenting with at this time. The work's focus on the Great Depression and raging timber industry adds saddening context to what, upon first glance, looks like a jolly lumberjack and his ox. Listening to songs like exile, my tears ricochet, and this is me trying would put you in the right frame of mind to explore this section of the galleries.  
"We never painted by the numbers baby, but we were making it count," – the 1 
EVERMORE: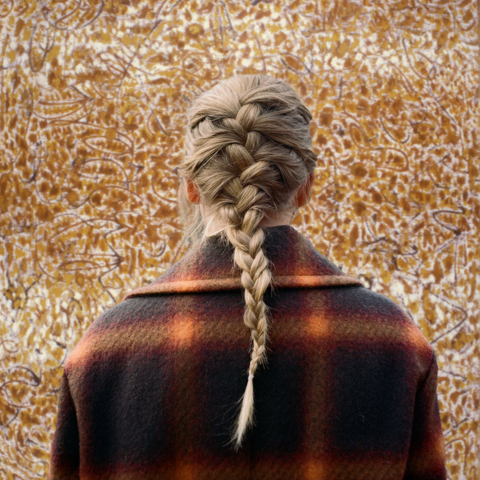 Taylor described evermore as the sister album to folklore, another blend of calming, raw songs coming only half a year later. In comparison, evermore is more of an autumn album, its cover featuring Taylor wearing an orange plaid coat, looking into the forest. In Gallery 6, Richard Pousette-Dart's oil painting Golden Enstrata features rusted oranges and deep golds swirling in clouds with abstract lines moving across the canvas. Based on the colors connected with this era, Golden Enstrata would be placed here for evermore.  
On the burnt orange wall back in Gallery 10, there are 37 pots made from earthenware. Fannie Nampeyo's Vessel (listed as 22 in the order) is a terracotta color with black bands across the neck and bottom – along with intricate designs in the middle. This vessel, as well as others on the wall, immediately made me think of the album and the handmade aura of the era.  
The first track on evermore, willow, drew me to Truman Lowe's Headdress Totem – a sculpture made from milled lumber and peeled willow sticks. The towering, sanded willow monument bent tight to Lowe's wind.  
"Every bait-and-switch was a work of art," – willow 
MIDNIGHTS: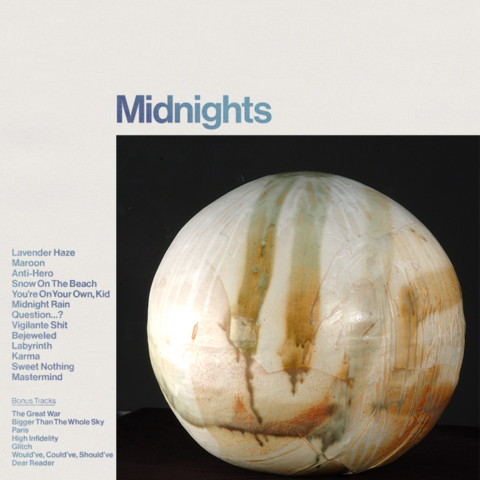 In her tenth and most recent original album, Midnights, Taylor sings about staying up late overthinking and many sleepless nights, all in modern synths. With thoughts of the night sky floating around my head, I first saw a brown, drippy, cosmic sphere on a pedestal--better known as Moon by Toshiko Takaezu. The artist's "moons" portray her idea of fullness and the interiors vastness – like how Taylor used Midnights to round out her ten albums and kickoff her vast international concert tour, Taylor Swift The Eras Tour. 
This era gives a very dark blue, bejeweled, and fancy feeling so in the gallery containing African textiles, the Mali Arkilla jenngo (Wedding blanket or tent pannel) offers the impression of Taylor's Midnights through its blue and white cotton/wool checkered board print.  
Instead of putting bonus tracks on the album, Taylor decided to release a "3am Edition" later in the night, featuring seven new songs. One of the tracks, Paris, is about being in love in the city of love – connecting well with Stuart Davis's New York to Paris, No. 1, which highlights imagery from both cities. Taylor is known for her love of naming her favorite cities, as seen in 1989 with Welcome To New York and now in Midnights with Paris. A fantastic example of how although each of her eras are different, they can all blend together to make a cohesive body of work – just like all the galleries working together in the Stanley.  
"Cause I don't remember who I was before you painted all my nights a color I've searched for," – Question…? 
---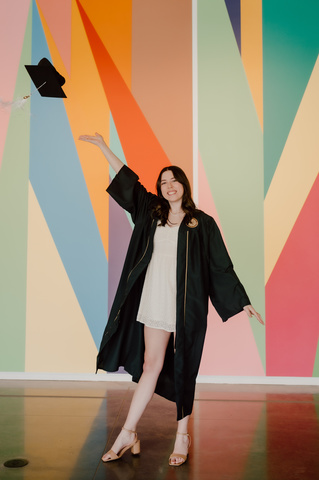 About Anaka Sanders
Anaka Sanders graduated from the University of Iowa in May of 2023 with a bachelor's degree in Journalism and Mass Communications and Art History. As a student she worked at the Stanley as a Gallery Host and the Communications and Marketing Assistant, and after graduation she has continued on in a temporary role for the same assistant position.
In this role, Anaka assists in maintaining the Stanley's digital presence by creating posts to promote events and programs, and by developing creative content to engage all audiences--college students and young adults in particular. Her favorite part of her job is editing funny Reels and seeing the reactions from our followers!
Along with being Taylor Swift's biggest fan, she also enjoys spending her time with her friends watching movies together and making collages. The highlight of her summer was seeing Taylor on the Eras Tour in Chicago and Kansas City!