At the Nexus of Art and Science
Have you ever wondered what an art conservator does? We sat down with object conservator Stephanie Hornbeck, Director of Conservation at her private practice, Caryatid Conservation Services, to answer that very question.  
Through stabilization, repair, and restoration, conservators ensure that artworks and objects continue to be enjoyed and studied by future generations. As Hornbeck says, "Conservation is a real nexus of art and science." Conservation requires interdisciplinary expertise in art history or anthropology, studio art, and chemistry to masterfully maintain an artwork or object. After the original artist, the conservator comes into closest contact with the materials and media comprising an object.  
According to Hornbeck, conservators are doctors of the art world, and just like doctors, they have their own Hippocratic Oath: do no harm to the object. Their restoration work and cleaning methods can permanently alter an object, so they have a great responsibility to not adversely affect the original work. As Hornbeck states, "We always try to use stable materials that can be reversed by future conservators… we always want our work to be detectable. That's an important ethical aspect of what conservators do. We don't want our work to be mistaken for the work of the original artist."
It is delicate work. While conservation should be detectable through instrumentation like ultraviolet light imaging, it must also go unnoticeable to the untrained observer. "We don't want to detract from the incredible work of the original artist and maker," adds Hornbeck. 
To walk us through her work, Hornbeck is using an object from the Stanley Museum of Art's African collection: a Mami Wata figure, made by Joseph Chukwu. In 1975, the figure was carved from wood and painted. Today, abrasions and losses to the paint are being restored for the upcoming inaugural exhibition, "History is Always Now."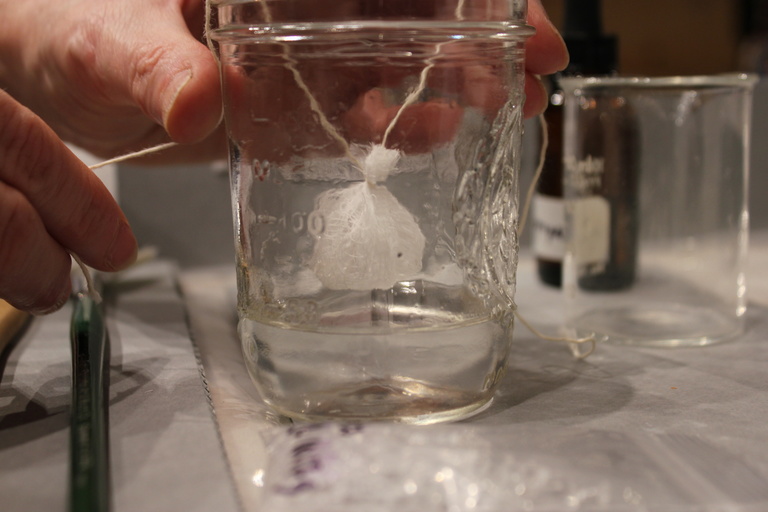 Hornbeck notes that conservators start their work with stabilization and repairs. On the Mami Wata figure, she begins by stabilizing a loose arm using a recessed fill of adhesive mixed with glass microballoons. She also addresses some lifting gray paint, by applying adhesive on a tiny brush under the flakes. "We want to always use very stable adhesives, so we mix them ourselves." To create her adhesive, Hornbeck uses a synthetic resin that comes in a pellet form. She puts it in a cheesecloth sachet and mixes it with solvent. Before applying the adhesive, conservators do solubility tests with a range of solvents, so they don't dissolve the original medium with its application.  
Next Hornbeck begins the aesthetic integration stage where the goal is legibility. At this stage, the conservator works closely with the curator, to determine what material to add to the object. "It's really important that the conservator be guided by the curator regarding the level of aesthetic integration… I'm adding to the work of art and that's different than just stabilizing what's already there," explains Hornbeck.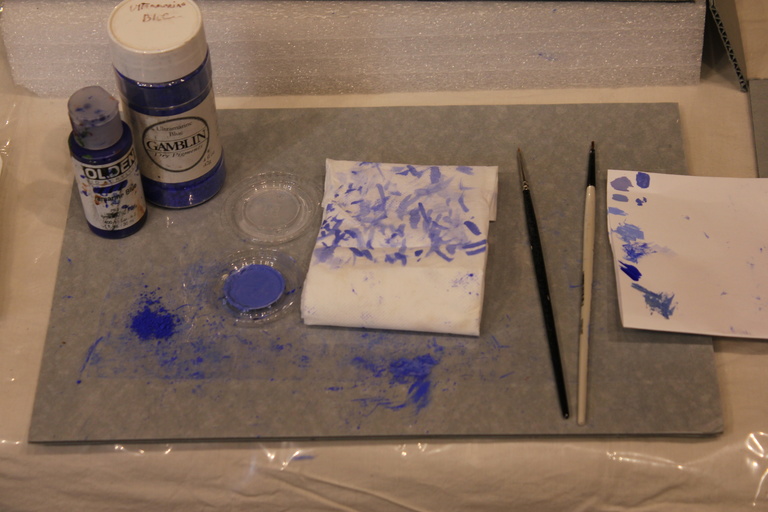 For aesthetic integration inpainting, conservators use a different medium than the original so if the inpainting must be reversed, the original material does not get damaged. As Hornbeck examines the Mami Wata figure, she uncovers that the original material was probably water-based. "I did some tests and found that I could use an acrylic, which is reversible in acetone." Hornbeck's expert eye can spot the exact shade of color. In this case, a synthetic form of ultramarine blue closely matches. Hornbeck carefully mixes and modifies the colored paint herself to use in the aesthetic integration.
Starting on the back of the object to work out her method of application, Hornbeck begins the process of aesthetic integration. She precisely adds to the object in a way that emulates some of the wear of the original blue paint. Hornbeck explains that conservators follow the rule of six: "at six feet it should be invisible but at six inches you should see it." As Hornbeck works, the object slowly, but surely, comes together in an almost magical way.
The most involved treatment, requiring more than 70 hours, has been devoted to the polychrome wood Yoruba Epa mask which stands nearly five feet tall. Carved fully in the round, it depicts a ruler - the large equestrian figure – surrounded by a retinue of smaller figures. Hornbeck's treatment has involved multiple steps, all documented with photographs. Both losses and egregious restorations distracted from the original painted decoration. The painstaking consolidation of lifting paint flakes was accomplished using a tiny brush, adhesive, and a heated micro-spatula tool. Dry surface cleaning was undertaken with small, closed-cell sponges. Multiple previous restoration campaigns of fills, coatings and overpaint layers, were removed or reduced with solvents and gels. Several discussions with Curator Cory Gundlach informed the degree of overpaint removal and aesthetic integration employed. Hornbeck then inpainted losses and areas of discolored coating to return the decorative scheme to a more unified appearance.
Hornbeck has been instrumental to the Stanley's inaugural exhibition preparations. She has conserved 15 other works in the Stanley's African art collection including multiple Ere ibeji (twin figures) from the Yoruba and masks created by a variety of peoples, ranging from the Igbo to the Bwa. All of these works will be on view at the inaugural exhibition opening on August 26, 2022.
Want to learn more about conservation? Check out Hornbeck's website: Caryatid Conservation Services (caryatid-conservation.com)