The Stanley Museum of Art presented a gallery talk on art for Mami Wata by Cory Gundlach, curator of African Art on October 22, 2023.
The talk focused on sculptures by Nigerian artist Joseph Chukwu and Ghanaian artist Eric Adjetey Anang now on view in History is Always Now, an exhibition curated by Gundlach for the museum's inaugural installation.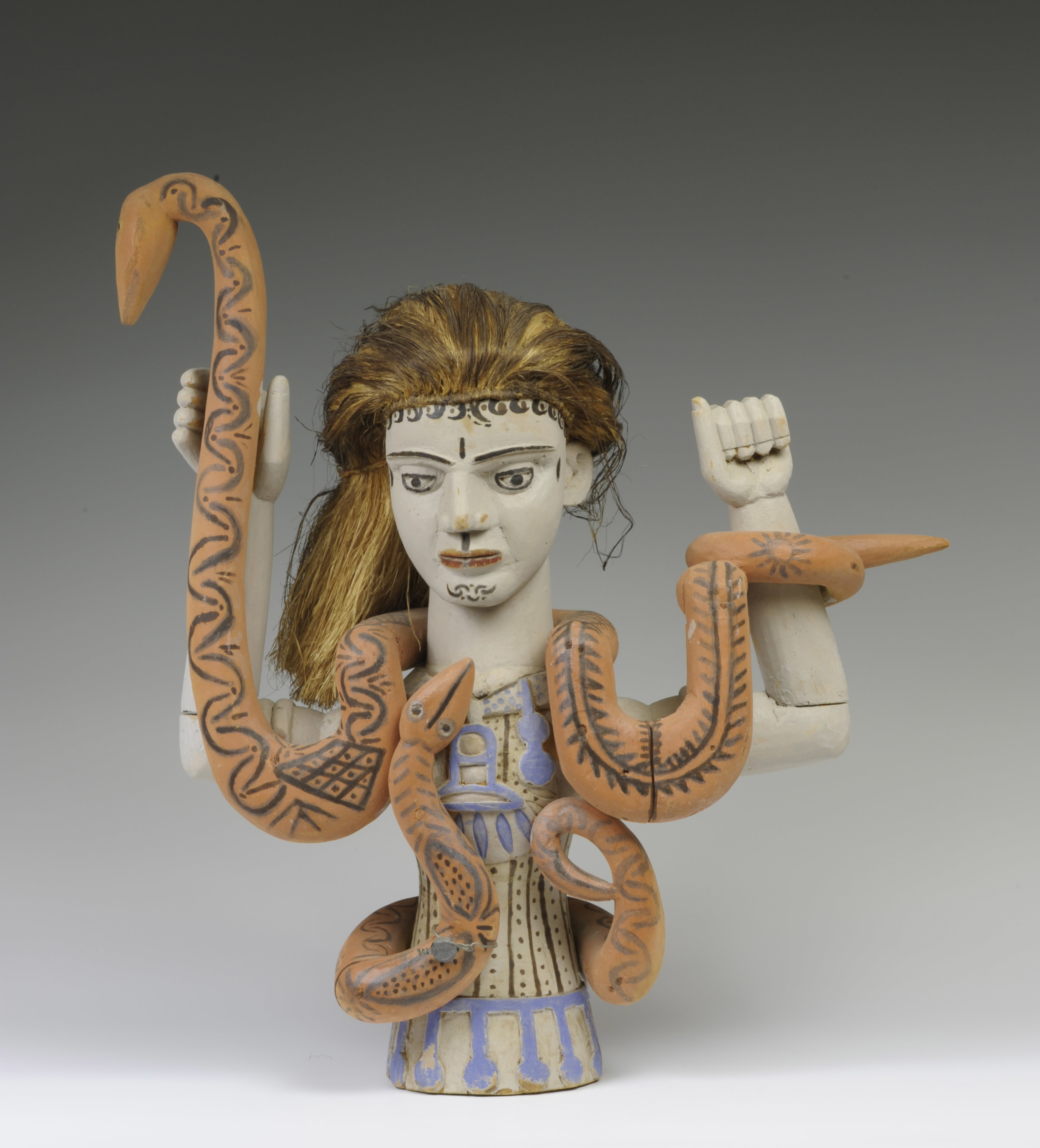 Mami Wata figure by 

Joseph Chukwu


c. 1975, Wood, fiber, pigment
23 1/2 x 20 x 8 in. (59.69 x 50.8 x 20.32 cm)
Donated by Pamela J. Brink, RN, Ph.D.



The distinctive portrayal of Mami Wata originated from a postcard featuring Maladamatjaute, a snake charmer performing with the Adolph Friedlander Company in Hamburg during the 1880s. This image gained widespread recognition as the definitive representation of the water spirit, inspiring African artists like Joseph Chukwu.
Gundlach explored the historical contexts surrounding Chukwu's and Anang's representation of Mami Wata, and artistic relationships between these artworks and other images of the water spirit throughout the African Diaspora.
Often depicted as a beautiful woman with the tail of a serpent or fish, Mami Wata is both revered and feared, as she is believed to have the power to grant wealth and prosperity, but also to inflict misfortune and death.
Chukwu's depiction of her responds directly to a print-advertisement from India for "human zoos" that were common from the late 19th to mid-20th century. Anang's life-sized representation of the water spirit takes the shape of a figurative coffin, which belongs to a larger artistic tradition of sculpture from southern Ghana pioneered by his grandfather in the mid-20th century.
The water spirit commonly known as Mami Wata has been recognized throughout Africa, mostly in the west and central regions, as early as the late 15th century. It has taken on the name Mami Wata, which is a Pidgin English expression, more recently in the early 20th century.
Gallery Talk | African Water Spirit Mami Wata Art at the Stanley Museum of Art