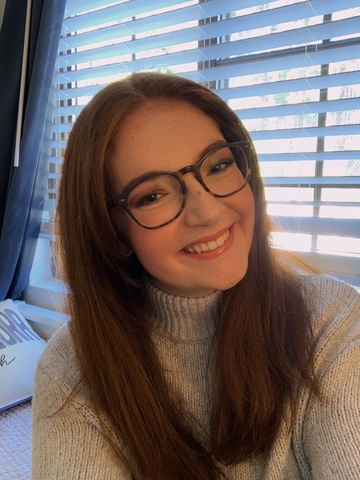 Explain your experience working for the Stanley:

My role at the Stanley has been Campus Engagement Coordinator. In this position, I lead the Stanley Campus Council, our student-led advisory group, as we plan and execute events and activities aimed at Iowa students to enjoy.

How did your involvement at the Stanley compliment your studies?

As a psychology, education studies and human relations double-major with the writing certificate, I have found that my job here as the Campus Engagement Coordinator has complemented my academics, my interests, and my future plans quite well. I hope to go into higher education and student affairs as a career, and this role has allowed me to obtain hands-on experience working with students in a leadership role while also learning how to implement both large and small-scale events.

What was your favorite moment or part of working at the Stanley?

Meetings where we all gather together are always wonderful, but my favorite event must be the artist showcase we put on in April; so many people loved and took part in that event, and it was great to see hard work come to fruition.

Where are you headed next?

I will be attending the University of Tennessee to pursue a Master's of Science in College Student Personnel while working in their student conduct office.

What will you miss most about Iowa?

I will miss the people I have had the chance to meet most. Everyone here has such interesting backgrounds, with wide ranges of outside interests, hobbies, careers, and studies. Meeting this many new people with a common passion for art has given me a window into the wide range of people the University attracts.