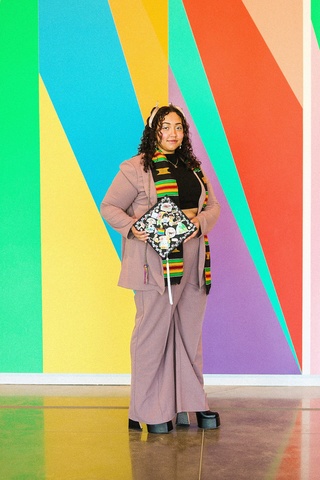 Explain your experience working for the Stanley:

My role at Stanley was as the Stanley Campus Council intern. I mainly helped Emalie (Campus Engagement Coordinator) and Allie (Assistant Curator of Student Engagement) with the tasks they needed help with, focused on the SCC blog, did certain social media posts, helped with promotional things for events, and had my Student Showcase as my personal project. 

How did your involvement at the Stanley compliment your studies?

Working with the Stanley complemented my studies and career plans because I am an anthropology major, and I am hoping to continue my work in museums and will hopefully attend grad school with a bigger focus on museum and archival work. My time with Stanley also allowed me to continue planning events for the students on campus and community members because most of my time at UIowa has consisted of creating spaces and events. Although I have worked at the MISSE spaces, and been involved with Women's Summit, BSU, ALMA, and Walk it Out, the opportunity to work at Stanley helped bring together all aspects of my undergrad career.

What was your favorite moment or part of working at the Stanley?

Some of my favorite moments at the Stanley include, selfishly, the Student Showcase event because the stressors and planning all came together, and it was amazing to see everyone having a good time. I also loved the December event where we made clay art and watched Wallace and Gromit. I also had the opportunity to be a substitute Gallery Host and it was amazing to meet more Stanley workers and it was fun but stressful to greet people during Spring break. But I think every SCC meeting was just so fun and great and I especially loved when the SCC and the Pentacrest Museums Student Activities Board (SAB) came together and met one another. 

Where are you headed next?

As for post-grad, I am briefly heading home to Kansas City and working over the summer. In August, I am moving to Houston to live with my sibling, their roommate and their 4 cats. I will hopefully find a museum, library, or university job. I am taking a gap year (or years) before I attend grad school. Likewise, I know in my heart I am not done with school, but I have been burnt out since the pandemic began and I need time to just not be in school. I've never left to Mid-West before, so I am excited to be somewhere completely new.

What will you miss most about Iowa?

This a silly little backstory, but my dad and sibling both attend UIowa, so I realized I wanted to be a Hawkeye when I was in middle school. I was one of those weirdos who had Hawkeye merch. Although my undergrad was not what 12-year-old me imagined (I did not think a global pandemic would hit right as I was beginning my adult life), I still feel that I am going to miss Iowa City and everything that made childhood me fall in love with the city and university. There's something so beautiful about the old capital building to me and I have this memory of watching the fireworks light up the sky and how beautiful everything looked. I am of course also going to miss my friends and all the people who made my time here special.